Weenies Webdesign & Multimedia-Editing!
Individuelle Homepagerealisierung und Bearbeitung von Multimediamaterial nach Ihren Vorstellungen. Webpräsenzen, wie sie nicht schon zu Hauf im Netz zu finden sind. Durch Zusammenarbeit mit diversen anderen Personen aus dem Multimediabereich können wir Ihnen ein breites Spektrum für die Verwirklichung Ihres Multimediaprojektes bieten.



Weenies Webdesign & Multimedia-Editing!
Individual realizing of homepages and editing of multimedia-material according to your wishes. Websites not as they can often enough be found in the internet. Working together with different other persons from the multimedia section we can offer you a wide range of realising your multimedia-project.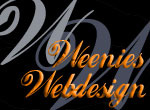 Weenies Webdesign, Multimediaediting & Bandservices

c/o Harald Krüger
Apollostraße 15C
30952 Ronnenberg (Germany)

Phone: +49 (0)511 - 234 78 26
Mobil: +49 (0)178 - 5 57 64 54

Internet:
http://webdesign.helloweenie.de
e-mail:
webdesign@helloweenie.de